Books. Who Needs 'Em?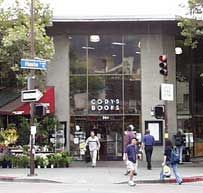 FAREWELL COMING FOR TELEGRAPH LANDMARK: Cody's to close book on flagship store.
Independent bookseller bows to financial pressure as sales fall and area said to be in decline.

Although the other two Cody's locations will remain open this is still very depressing news.
It could mean one of two things for us other booksellers in the area:
1. We're more fucked than we thought we were.
2. We'll skate by for just a little longer on their lost new book sales.

Times are tough right now for dreamers.